Product Description
Bitzer Compressor Condensing Unit for Coolrooms & Freezer rooms. Highly efficient, easy-to-install commercial refrigeration condensing units for all applications.
Refrigeration freezer compressor condensing Units come as complete air cooled refrigeration units suitable for refigerants R134a, R404a, R449a and R22. The manufacturing process assures accurate design, optimisation of thermodynamic characteristics and the high quality of all components guarantee a long life performance under the most severe conditions. All units are provided with liquid receiver making them suitable for expansion valve application. Low start torque units omit the receiver as this is deemed unnecessary for restrictor line applications.
Our factory advantages:
1. Reliable raw materials:
World famous brand components such as BITZER compressor, CAREL controller DANFOSS valve, and electrical members are SIEMENS.

2. Strong R&D ability and technical supports:
We have 9+ patents
10 years' experiences engineer provide free technical supports

3. Quality control:
ISO 9001, CCC certificate, CE

4. Complete after-sales ability:
We have one of the five BITZER Green Point maintenance centers.

5. Complete certifications:
Business license and all necessary government licenses
Production License (many other manufacture don't have)
Cold room refrigeration compressor unit Features:
1, Various kinds of models for your choice;
2, Best quality components of world famous brands;
3, High efficiency shell and tube condenser which enables high energy efficiency ratio;
4, Compact structure, sturdy and durable, convenient to install;
5, Widely application and can use R22, R134a, R404a, R507a etc.
It includes compressor, condenser, liquid receiver, accumulator, oil separator, dry filter, pressure controller,oil sight glass,
instrument panel, refrigerant oil, and protection gas. low temperature unit with cooling fan, two satge compressor unit with intercooler.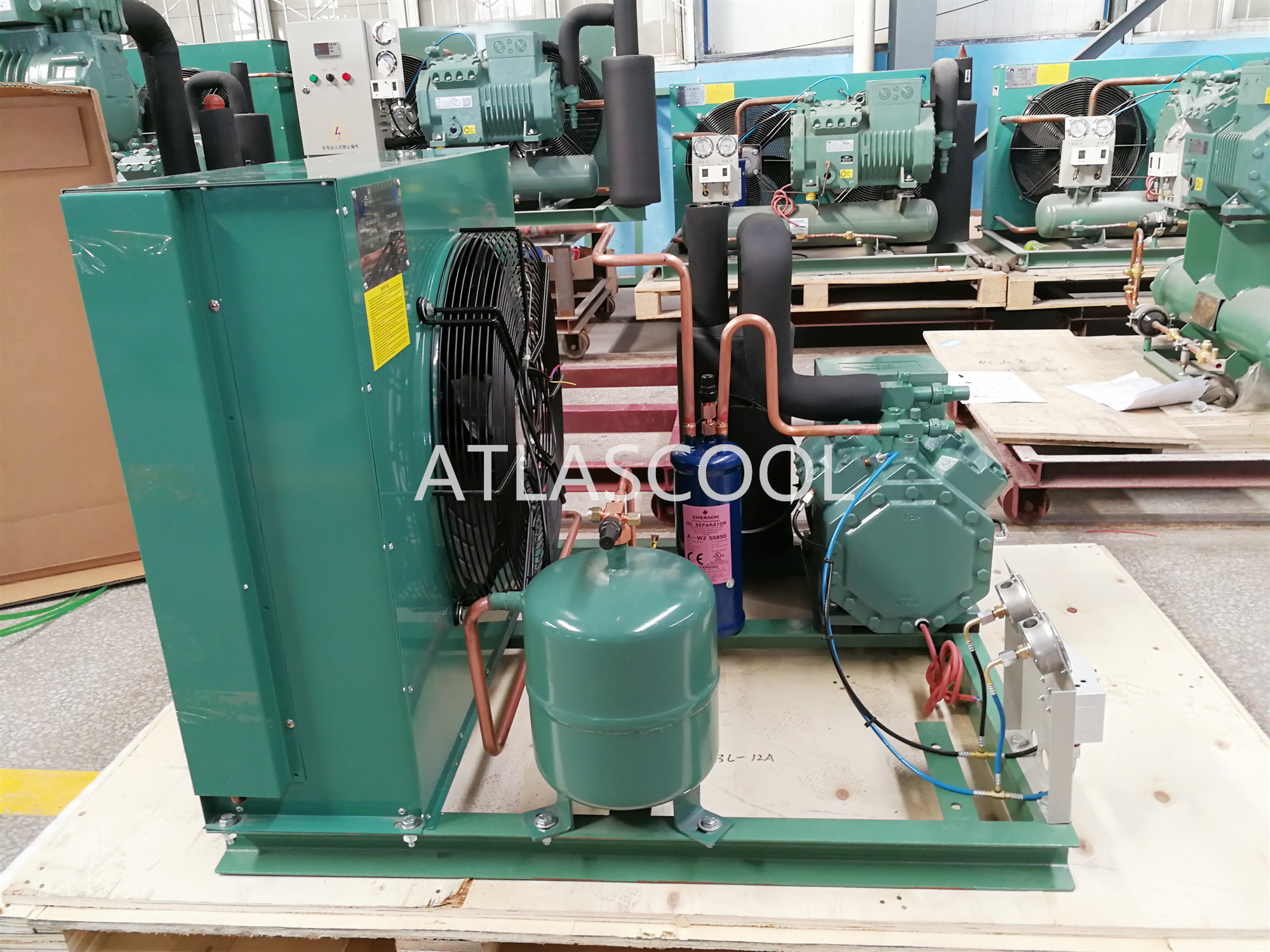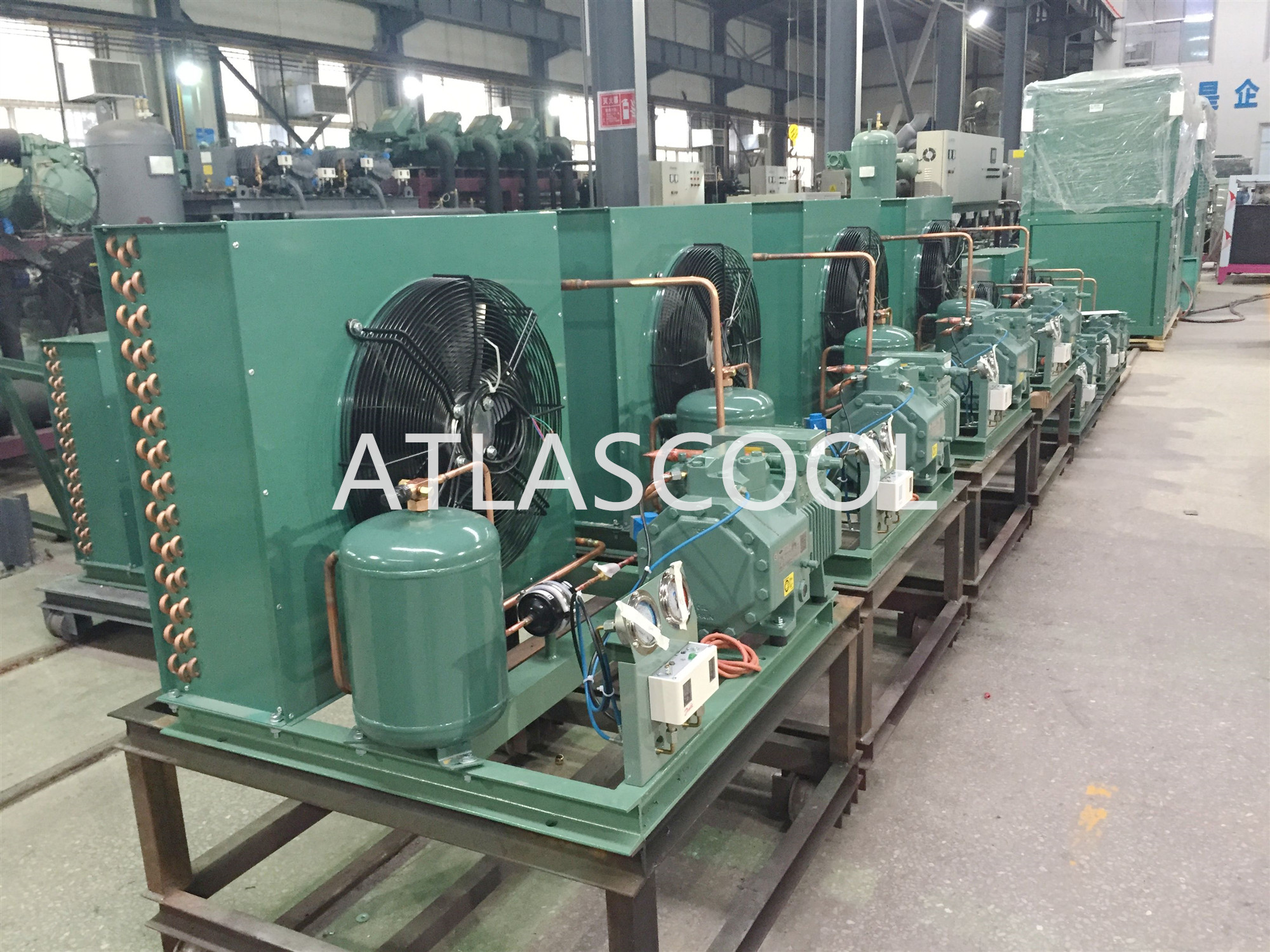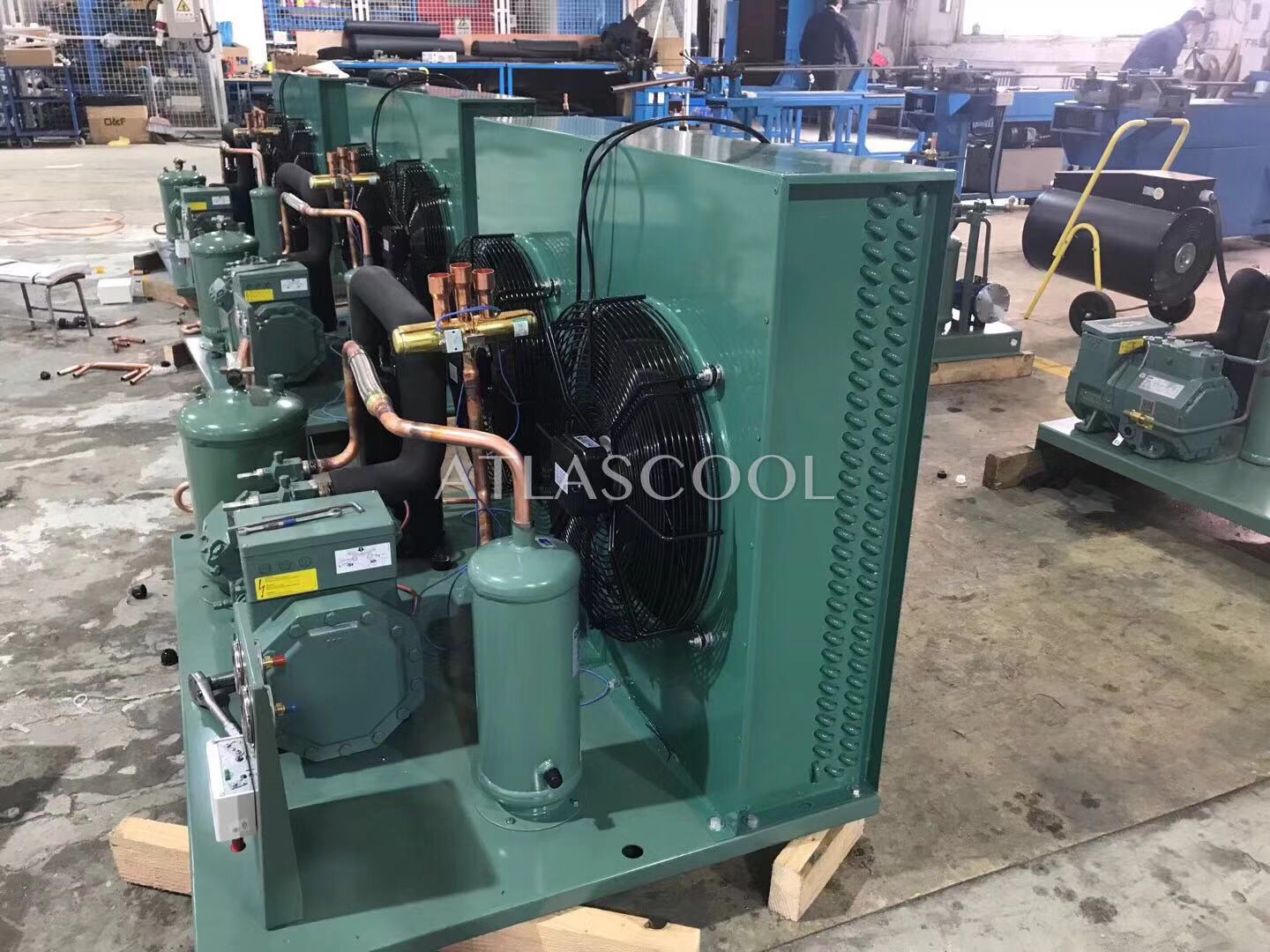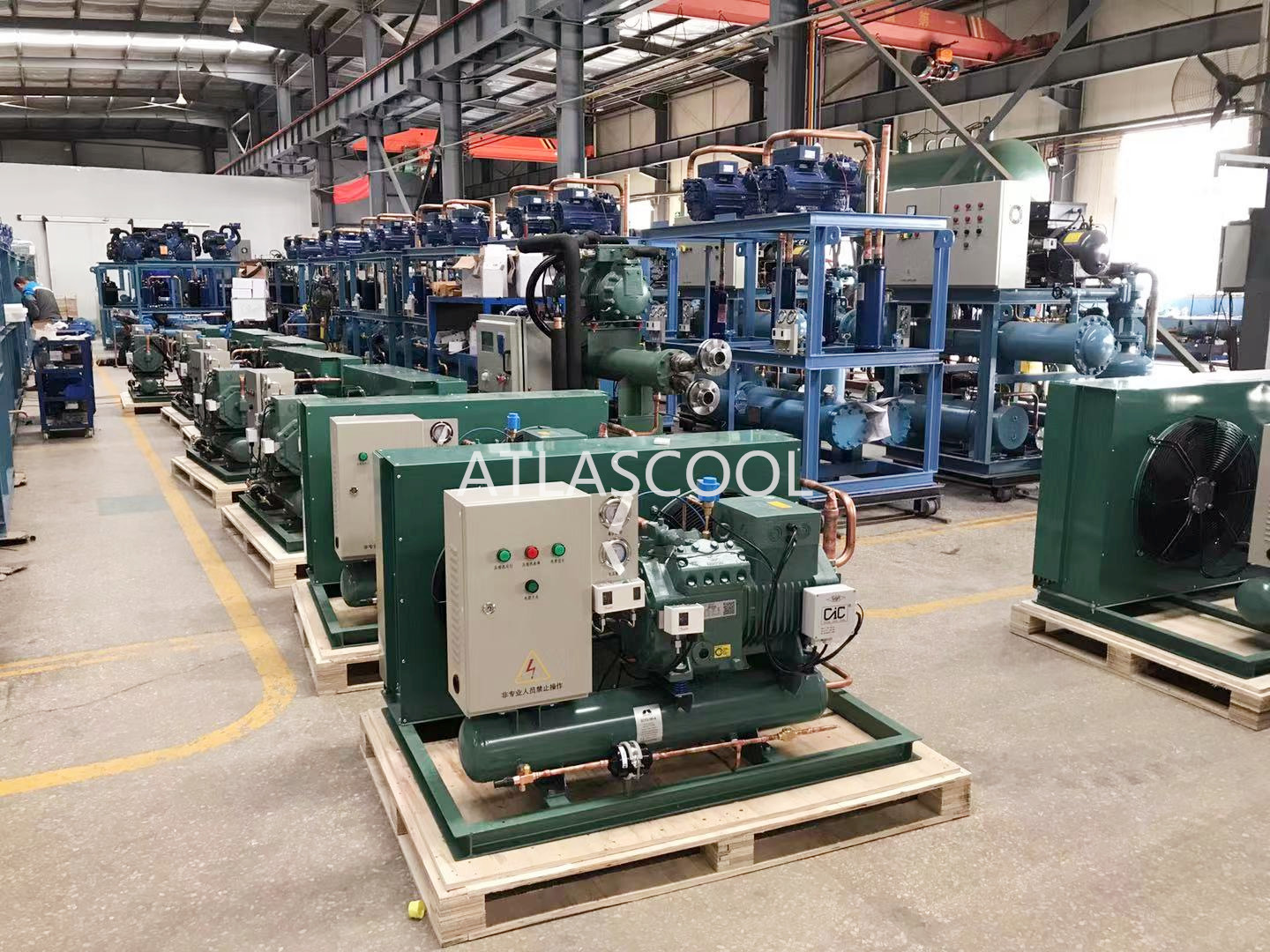 Bitzer Compressor Condensing Unit (High-temp)
Model

Compressor Model
Condensing Temp(℃)
Evaporating Temp.(℃)
Compressor power(kW)
Suction
pipe

(

㎜

)

Supply
pipe

(

㎜

)

Dimension

(L*W*H)(mm)
-15
-10
-5
0
5
ACBH-2YA
2GES-2Y
40
3.16
3.9
4.76
5.74
6.86
1.5
16
10
580*900*545
45
2.84
3.52
4.3
5.2
6.22
ACBH-3YA
2DES-3Y
40
6.08
7.48
9.1
10.96
13.09
2.25
22
12
810*800*545
45
5.47
6.75
8.23
9.93
11.87
ACBH-4YA
2CES-4Y
40
7.54
9.24
11.2
13.46
16.04
3
22
12
860*900*800
45
6.81
8.37
10.16
12.22
14.57
ACBH-5YA
4FES-5Y
40
8.08
10.0

12.17
14.73
17.69
3.75
22
12
860*900*800
45
7.31
9.02
11.02
13.33
15.99
ACBH-6YA
4EES-6Y
40
10.1
12.49
15.28
18.52
22.3
5.25
28
16
1295*900*800
45
9.12
11.31
13.84
16.78
20.3
ACBH-7YA
4DES-7Y
40
12.23
15.08
18.4
22.2
26.7
5.25
28
16
1295*900*800
45
11.09
13.71
16.75
20.3
24.3
ACBH-9YA
4CES-9Y
40
14.74
18.22
22.3
27
32.4
6.75
28
16
1295*900*800
45
13.34
16.57
20.3
24.6
29.6
ACBH-10YA
4VES-10Y
40
15.17
18.95
23.4
28.5
34.5
7.5
28
16
1295*900*800
45
13.61
17.08
21.1
25.8
31.6
ACBH-12YA
4TES-12Y
40
18.46
23
28.2
34.4
41.5
9
35
16
1295*900*900
45
16.63
20.8
25.6
31.2
37.7
ACBH-15YA
4PES-15Y
40
20.8
26.1
32.3
39.5
47.8
11.25
42
22
1675*900*900
45
18.67
23.5
29.2
35.8
43.4
ACBH-20YA
4NES-20Y
40
25.2
31.3
38.5
46.9
56.6
15
42
22
1675*900*900
45
22.7
28.3
34.9
42.6
51.5
ACBH-25YA
4HE-25Y
40
33.77
41.66
50.67
61.11
73.12
18.75
54
22
1870*1110*1920
45
30.56
37.77
46.1
55.68
66.69
ACBH-30YA
4GE-30Y
40
38.88
47.82
58.17
70.09
83.8
22.5
54
28
1870*1110*1920
45
35.2
43.4
52.88
63.78
76.31
ACBH-40YA
6GE-40Y
40
56.79
69.69
84.57
101.69
121.37
30
54
28
2560*1110*1920
45
51.47
63.29
76.91
92.55
110.47
ACBH-50YA
6FE-50Y
40
69.42
85.05
103.07
123.78
147.54
37.5
54
35
2750*1110*2060
45
63
77.3
93.74
112.57
134.12
Note: Voltage

:

380-400V/3P/50HZ

; Refrigerant

:

R404A

;
Test Working Condition

:

Suction temperature :18

℃,

Inlet temperature of condenser

:

32

℃
Cold room refrigeration compressor unit exported to Africa