Product Description
Highly efficient and easy-to-install outdoor refrigeration condensing units and commercial refrigeration units are designed for medium- and low-temperature, walk-in coolers, freezers and commercial display cases commonly found in c-stores and restaurants. They are with condenser together, it's outdoor air cooled condensing unit. Easy for installation.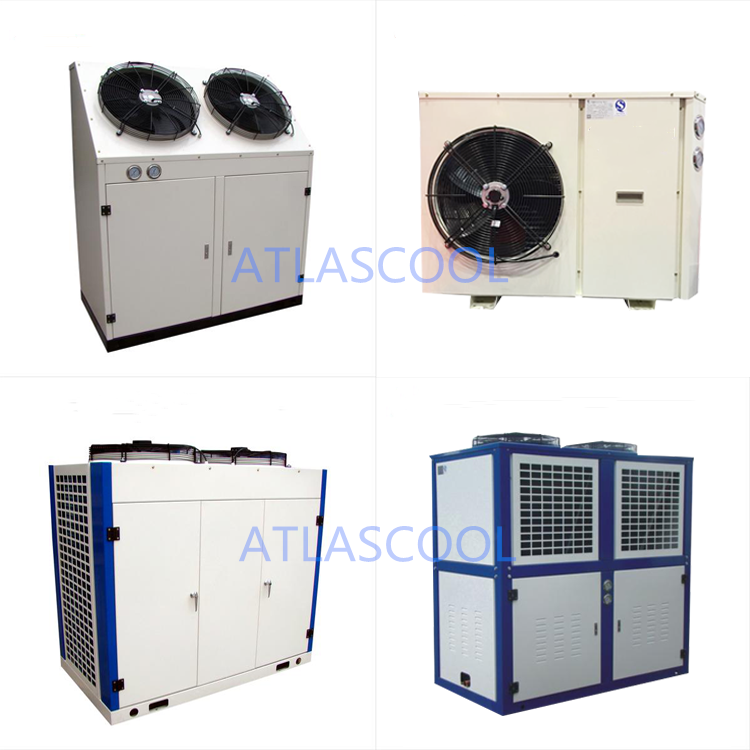 Our factory advantages:
1, Leading refrigeration technology
Special R&D development and strong ability:
More that 10 technology patents in refrigeration application;
Supply technical consulting service;

2, Professional certified employee
Refrigeration major and operation certificate of machinery.

3, More than 18 years factory experience
Itis the leading factory of refrigeration equipment;

4, professional whole line of production
With advanced equipment and technology, we have complete production management, quality control, and after-sale service system

Outdoor Refrigeration Condensing Units Features:
1, Various kinds of models for your choice;
2, Best quality components of world famous brands;
3, High efficiency shell and tube condenser which enables high energy efficiency ratio;
4, Compact structure, sturdy and durable, convenient to install;
5, Widely application and can use R22, R134a, R404a, R507a,R449a etc.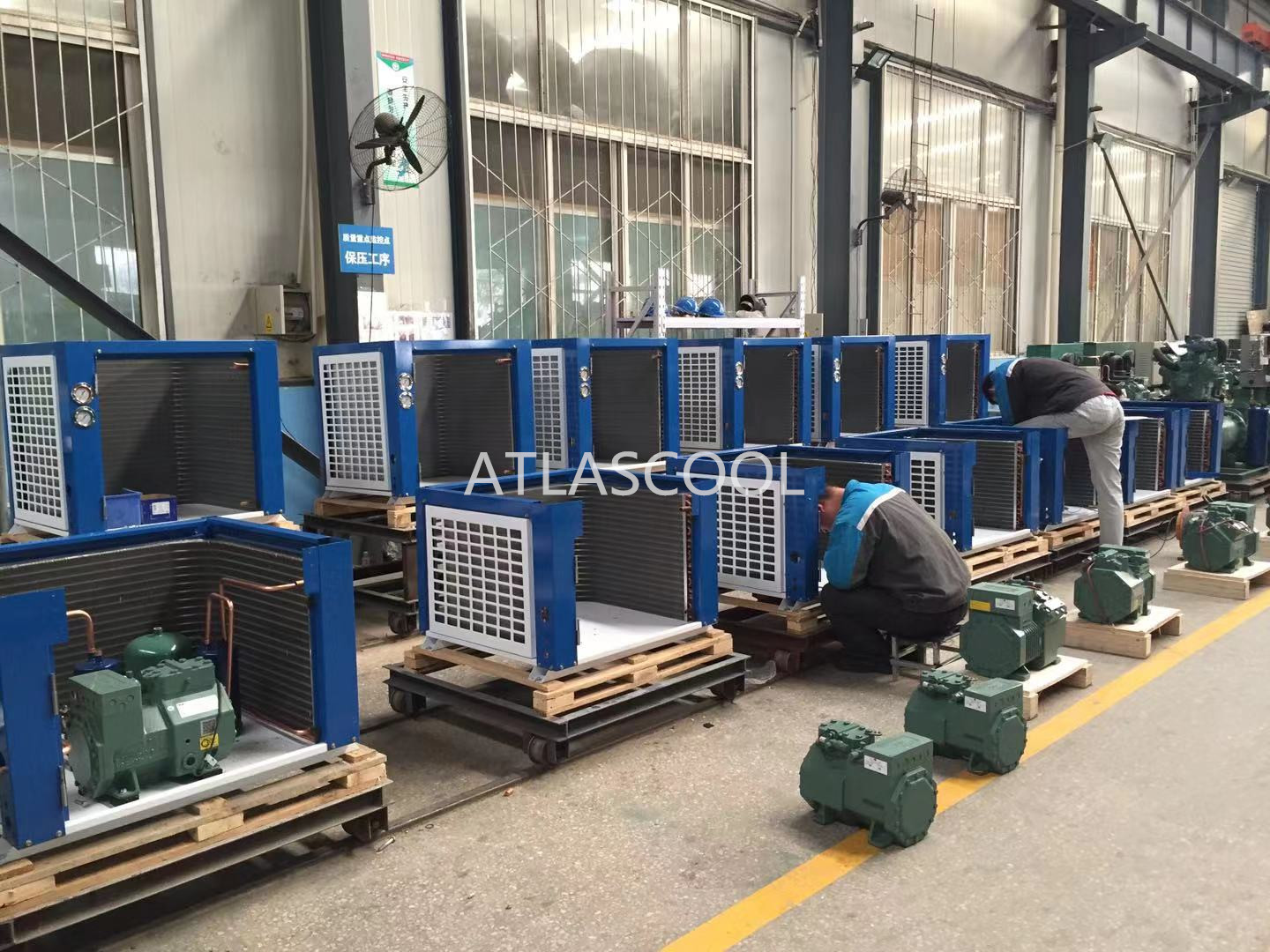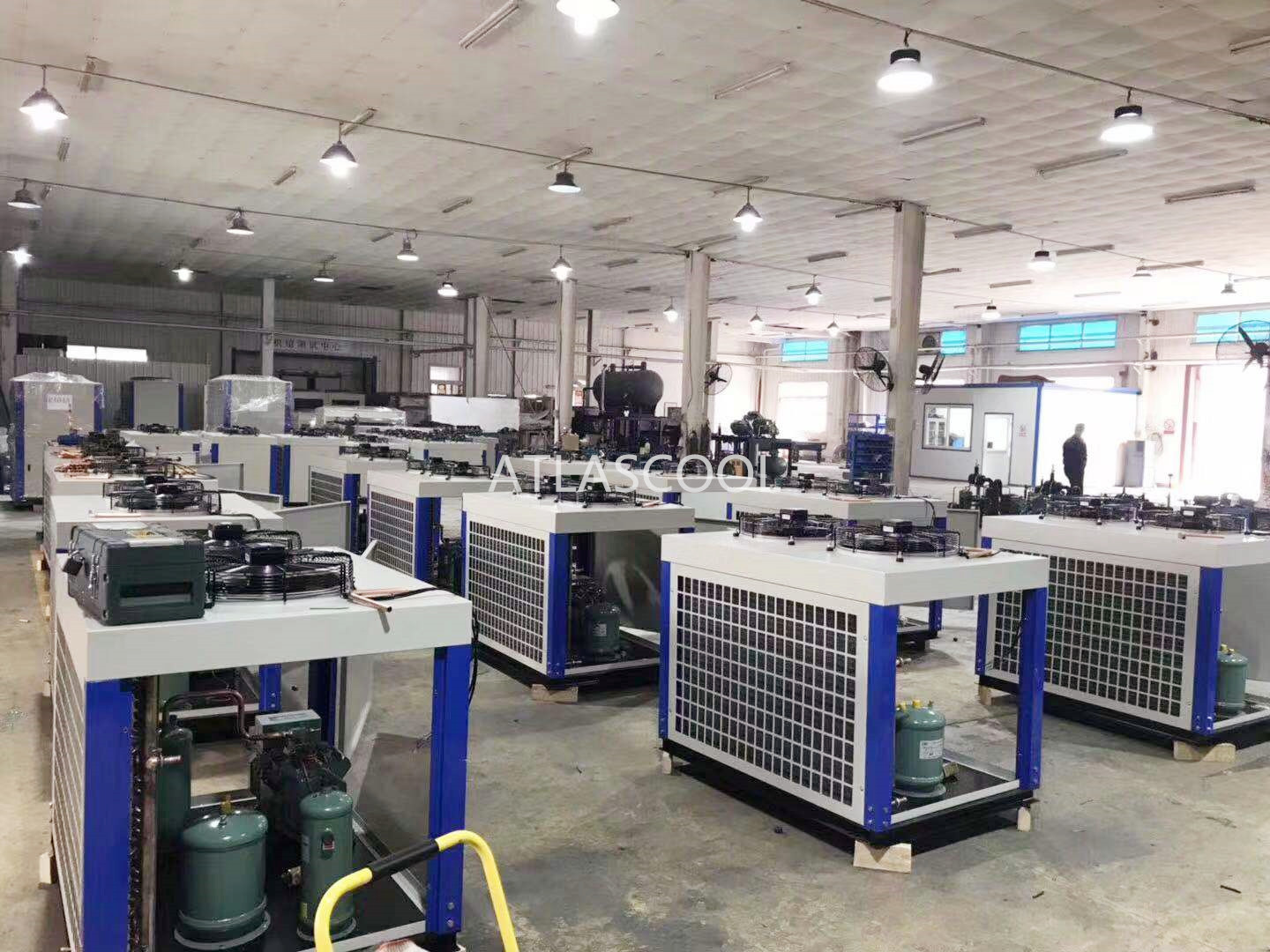 Bitzer Air-cooled Condensing Unit

(

Low-temp)

Model
Compressor Model
Condensing Temp(

℃

)

Evaporating temperature
Compressor (kw)
Suction pipe

(

㎜

)

Dimension

(L*W*H) (mm)

Operating Weight (KG

)

-35
-30
-25
-20
ACBL-2YA
2FES-2Y
40
1.27
1.75
2.31
2.97
1.5
16
580*800*545
136
45
1.09
1.52
2.02
2.62
ABL-3YA
2CES-3Y
40
2.62
3.51
4.55
5.76
2.25
22
810*800*545
159
45
2.28
3.08
4.03
5.13
ACBL-4YA
4EES-4Y
40
3.6
4.76
6.15
7.8
3
28
860*900*800
178
45
3.18
4.22
5.48
6.98
ACBL-5YA
4DES-5Y
40
4.3
5.68
7.34
9.31
3.75
28
860*900*800
204
45
3.79
5.04
6.55
8.34
ACBL-6YA
4CES-6Y
40
5.07
6.76
8.78
11.18
4.5
28
1295*900*800
212
45
4.46
5.98
7.82
10
ACBL-9YA
4TES-9Y
40
6.09
8.24
10.84
13.93
6.75
35
1295*900*800
271
45
5.28
7.22
9.57
12.38
ACBL-12YA
4PES-12Y
40
6.56
9.04
12.06
15.67
9
35
1295*900*900
305
45
5.58
7.82
10.54
13.82
ACBL-14YA
4NES-14Y
40
8.29
11.21
14.74
18.96
10.5
35
1675*900*900
330
45
7.15
9.79
12.99
16.82
ACBL-18YA
4HE-18Y
40
12.12
16.08
20.8
26.3
13.5
42
1675*900*900
417
45
10.65
14.25
78.53
23.6
ACBL-23YA
4GE-23Y
40
14.5
19.02
24.4
30.7
17.25
54
1675*900*900
449
45
12.87
16.97
21.8
27.6
ACBL-28YA
6HE-28Y
40
17.88
23.69
30.57
38.67
21
54
1760*1110*1920
492
45
15.7
21
27.28
34.68
ACBL-34YA
6GE-34Y
40
22.15
28.8
36.63
45.8
25.5
54
1870*1110*1920
515
45
19.75
25.82
32.97
41.33
ACBL-44YA
6FE-44Y
40
26.02
34.13
43.67
54.8
33
54
2025*1110*1920
614
45
23.05
30.5
39.21
49.36

Note:Voltage:380V/3P/50HZ

; Refrigerant:R404A

;Test Working Condition:Suction temperature :5℃,Inlet temperature of condenser:32℃
Application in Gabon cold room project