Product Description
Air cooled condensing units is an main equipment for a cold room, freezer room and cold storage room. So its quality is very important.
Our factory advantages:
1. Reliable raw materials:
World famous brand components such as BITZER compressor, CAREL controller DANFOSS valve, and electrical members are SIEMENS.

2. Strong R&D ability and technical supports:
We have 9+ patents
10 years' experiences engineer provide free technical supports

3. Quality control:
ISO 9001, CCC certificate, CE

4. Complete after-sales ability:
We have one of the five BITZER Green Point maintenance centers.

5. Complete certifications:
Business license and all necessary government licenses
Production License (many other manufacture don't have)
Air cooled condensing units Features:
1, Various kinds of models for your choice;
2, Best quality components of world famous brands;
3, High efficiency shell and tube condenser which enables high energy efficiency ratio;
4, Compact structure, sturdy and durable, convenient to install;
5, Widely application and can use R22, R134a, R404a, R507a etc.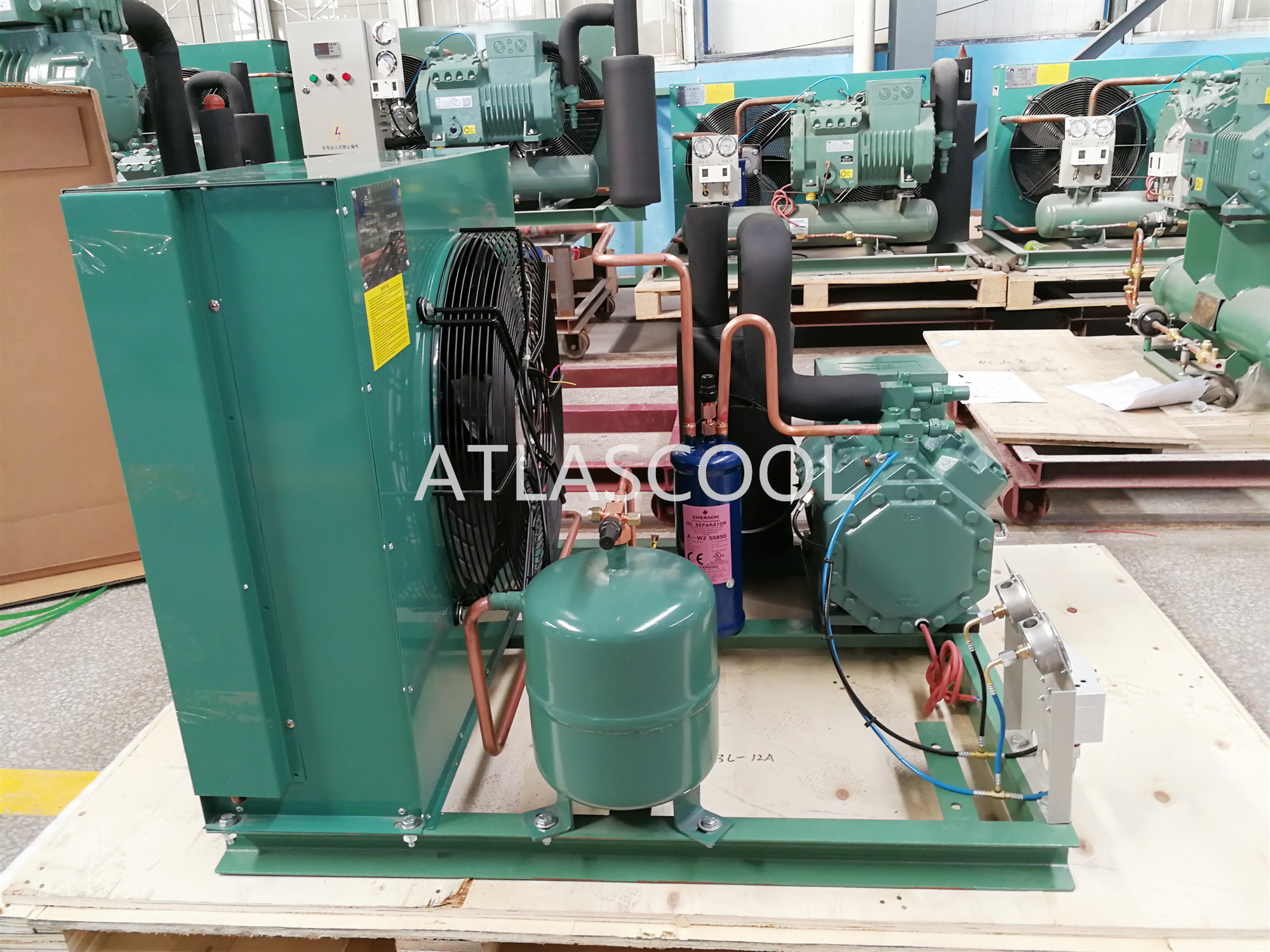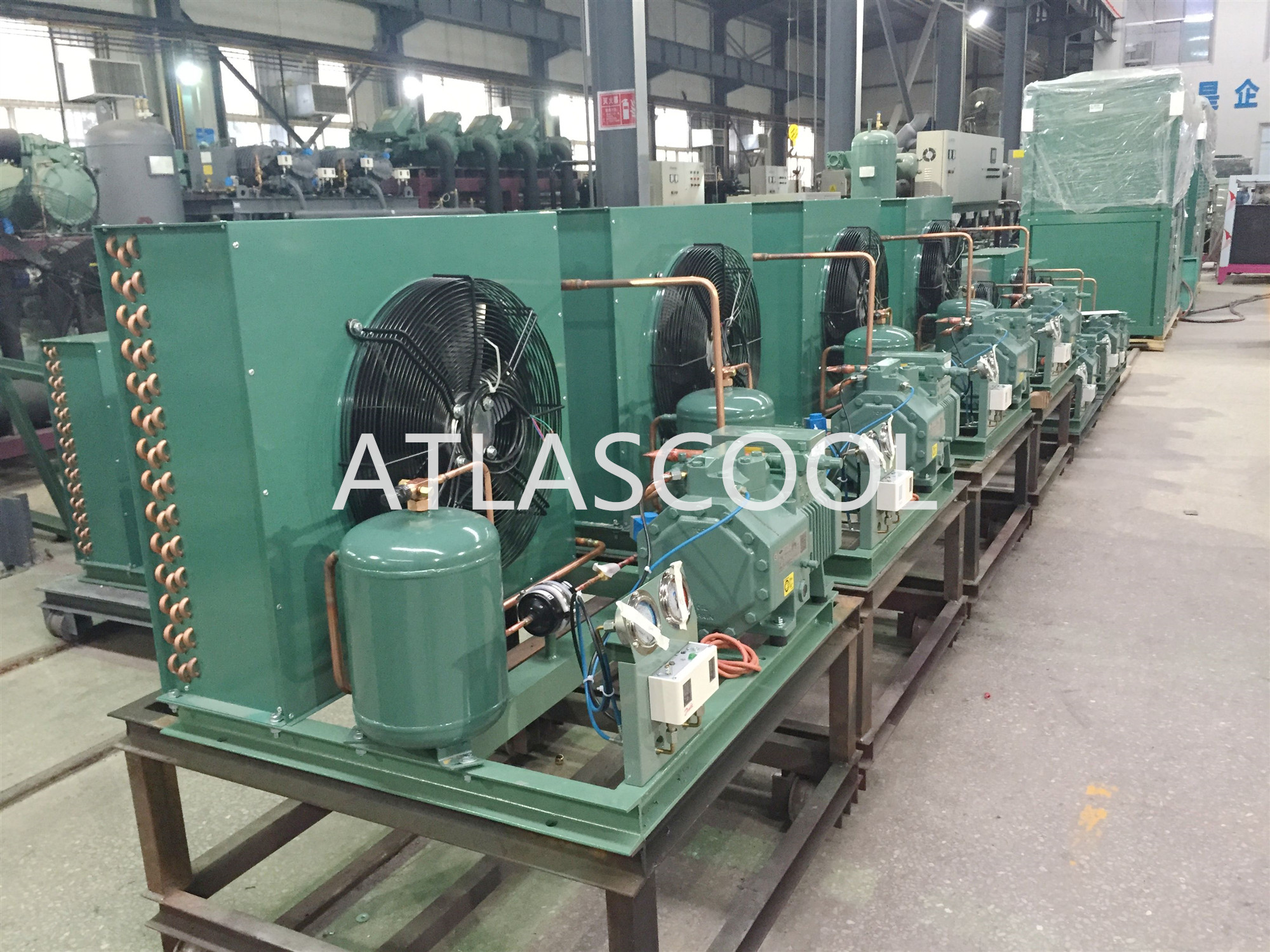 Bitzer Air-cooled Condensing Unit (High-temp)
Model

Compressor Model
Condensing Temp(℃)
Evaporating Temp.(℃)
Compressor power(kW)
Suction
pipe

(

㎜

)

Supply
pipe

(

㎜

)

Dimension

(L*W*H)(mm)
-15
-10
-5
0
5
ACBH-2YA
2GES-2Y
40
3.16
3.9
4.76
5.74
6.86
1.5
16
10
580*900*545
45
2.84
3.52
4.3
5.2
6.22
ACBH-3YA
2DES-3Y
40
6.08
7.48
9.1
10.96
13.09
2.25
22
12
810*800*545
45
5.47
6.75
8.23
9.93
11.87
ACBH-4YA
2CES-4Y
40
7.54
9.24
11.2
13.46
16.04
3
22
12
860*900*800
45
6.81
8.37
10.16
12.22
14.57
ACBH-5YA
4FES-5Y
40
8.08
10.0

12.17
14.73
17.69
3.75
22
12
860*900*800
45
7.31
9.02
11.02
13.33
15.99
ACBH-6YA
4EES-6Y
40
10.1
12.49
15.28
18.52
22.3
5.25
28
16
1295*900*800
45
9.12
11.31
13.84
16.78
20.3
ACBH-7YA
4DES-7Y
40
12.23
15.08
18.4
22.2
26.7
5.25
28
16
1295*900*800
45
11.09
13.71
16.75
20.3
24.3
ACBH-9YA
4CES-9Y
40
14.74
18.22
22.3
27
32.4
6.75
28
16
1295*900*800
45
13.34
16.57
20.3
24.6
29.6
ACBH-10YA
4VES-10Y
40
15.17
18.95
23.4
28.5
34.5
7.5
28
16
1295*900*800
45
13.61
17.08
21.1
25.8
31.6
ACBH-12YA
4TES-12Y
40
18.46
23
28.2
34.4
41.5
9
35
16
1295*900*900
45
16.63
20.8
25.6
31.2
37.7
ACBH-15YA
4PES-15Y
40
20.8
26.1
32.3
39.5
47.8
11.25
42
22
1675*900*900
45
18.67
23.5
29.2
35.8
43.4
ACBH-20YA
4NES-20Y
40
25.2
31.3
38.5
46.9
56.6
15
42
22
1675*900*900
45
22.7
28.3
34.9
42.6
51.5
ACBH-25YA
4HE-25Y
40
33.77
41.66
50.67
61.11
73.12
18.75
54
22
1870*1110*1920
45
30.56
37.77
46.1
55.68
66.69
ACBH-30YA
4GE-30Y
40
38.88
47.82
58.17
70.09
83.8
22.5
54
28
1870*1110*1920
45
35.2
43.4
52.88
63.78
76.31
ACBH-40YA
6GE-40Y
40
56.79
69.69
84.57
101.69
121.37
30
54
28
2560*1110*1920
45
51.47
63.29
76.91
92.55
110.47
ACBH-50YA
6FE-50Y
40
69.42
85.05
103.07
123.78
147.54
37.5
54
35
2750*1110*2060
45
63
77.3
93.74
112.57
134.12
Note: Voltage

:

380-400V/3P/50HZ

; Refrigerant

:

R404A

;
Test Working Condition

:

Suction temperature :18

℃,

Inlet temperature of condenser

:

32

℃
Application in Ghana cold room project