Product Description
Cold Storage Insulated Wall Panels
Cold storage Insulated Panels are used in warehouses, walk-in freezers, refrigerated units, food processing factories and such etc.
Our Cold Storage Insulated Panels can be used as interior, exterior or partition wall panels. Cold storage panels are also used as roofing systems, flooring, doors, etc.
We are a leading Cold Storage Insulated Panels manufacturer and supplier in China. We can produce puf,pir,pur and pu panels.
Main features:
High thermal insulation efficiency; Cold Storage Panels are perfectly suitable for food, meat or floras; Control bacteria, dust and maintain hygienic conditions;
Freezer Insulated Panels are washable, stain and mold resistant; Light-weight, strong cold storage panels
Easy to install, deconstruct and relocate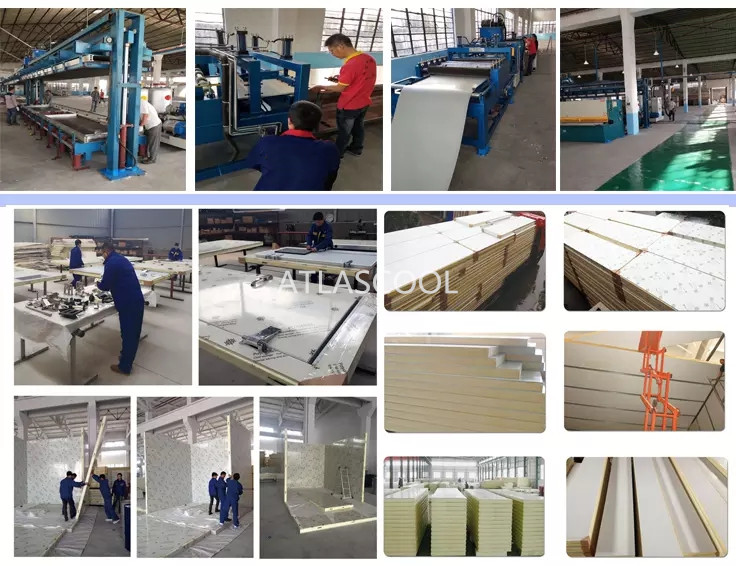 Feature:
1, Convenient installation
Polyurethane foam sandwich Cam-lock panel is specially designed for assembling small or medium-size cold storage, and other rooms, and, warehouse that need insulation. Every piece of pre-fabricated laminated panel is fitted with heavy duty locks, located on four sides.

2, Best quality and performance
PU foam density:40-42kg/m³
Thermal Conductivity: 0.022W/M-K
Covering color steel metal thickness: 0.4mm, 0.45mm, 0.5mm, 0.55mm, 0.6mm

3, Precise and Perfect details

Thickness: 50mm, 75mm, 100mm, 120mm, 150mm,175mm,200mm optional.
Covering color steel metal thickness: 0.4mm, 0.45mm, 0.5mm, 0.55mm, 0.6mm
1, Convenient installation
2, Best quality and performance
Specification

Width

Standard width 960mm, or customized and maximum 1200mm.

Length

As customers' requirements, maximum 12000mm.

Thickness

50 mm

≥ 15ºC

75 mm

≥ 10ºC

100 mm

≥ -15ºC

150 mm

≥ -25ºC

200 mm

≥ -35ºC

250 mm

≥ -45ºC

The most suitable thickness will be suggested according to the size and
temperature requirements, or customers` requirements.

Surface material

0.3~1mm Color steel sheet(pre-painted iron sheet)

0.4~1mm stainless steel sheet

0.5~3mm aluminum sheet

0.5~2mm galvanized steel sheet

Core material

PU(polyurethane ) / PUR(polyisocyanate ) / PIR(polyisocyanurate)

Joint system

Cam lock, tongue & groove, hook & pin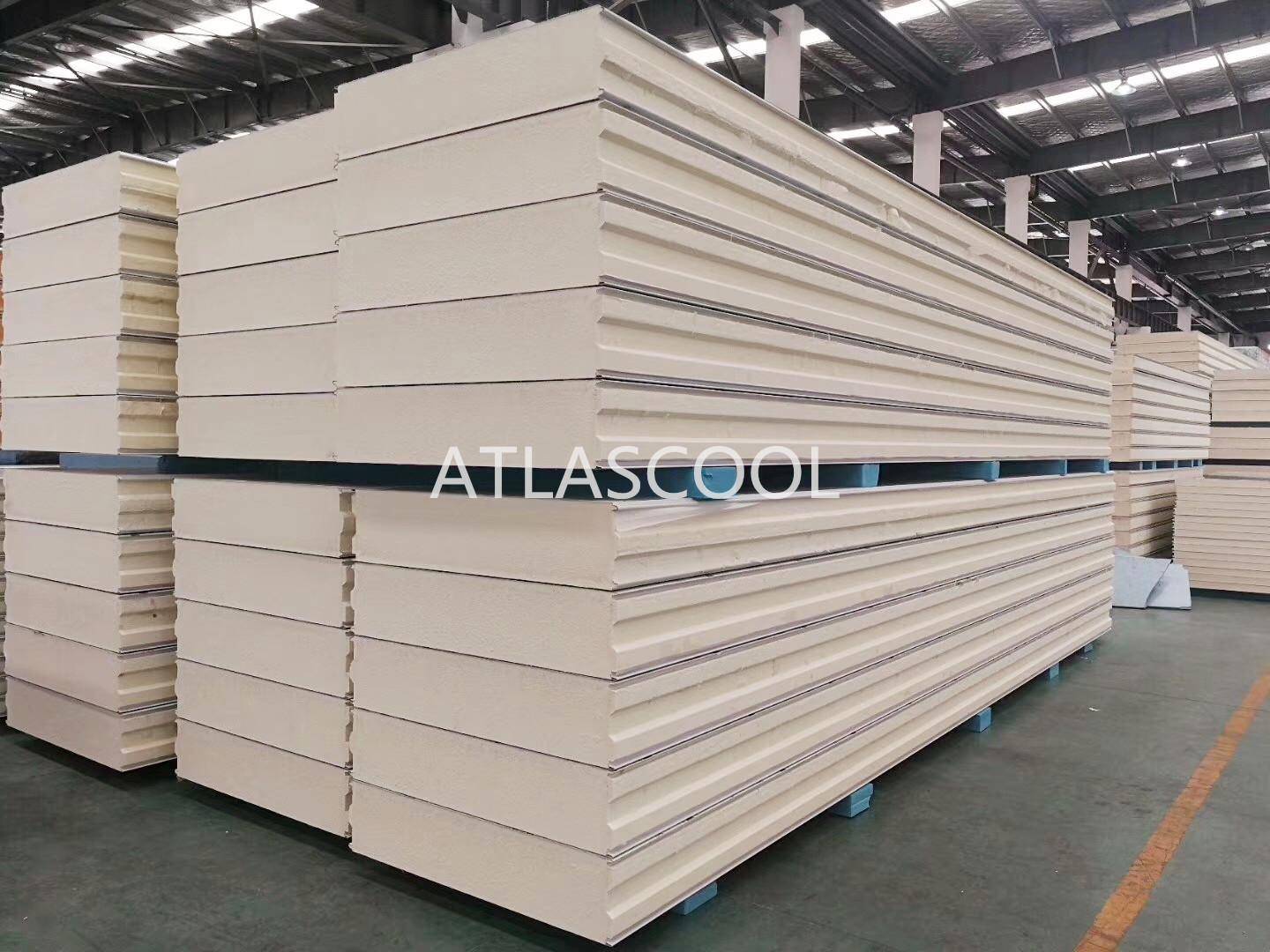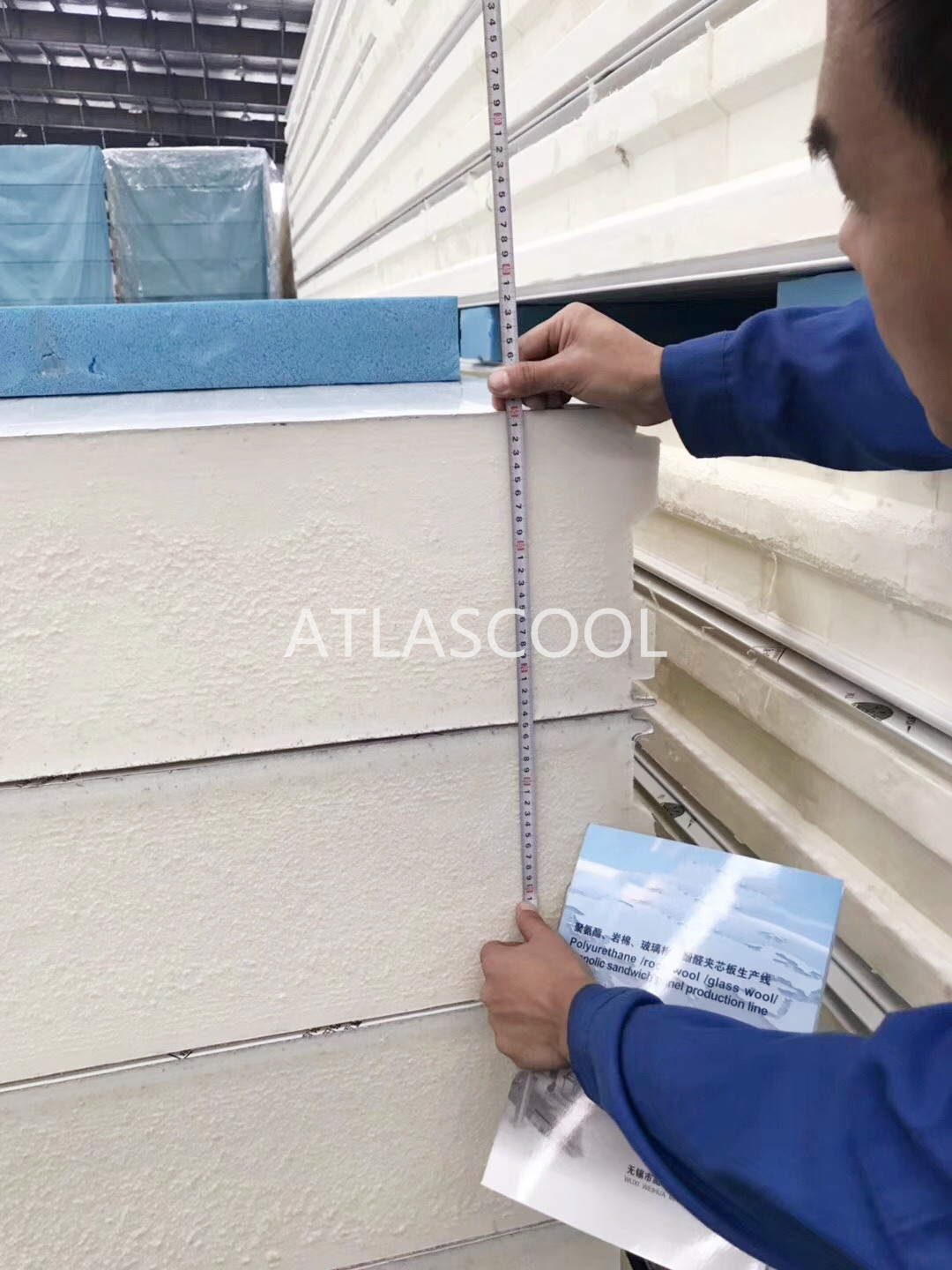 Advantages
1. The Proof of Quality: Now we have customers in different countries and places, such as Canada, USA, Australia, New Zealand, Singapore, Argentina, Middle- East, Africa etc.
2. The Guarantee of Quality: Reasonable design, Professional technicians, Stable production workers, Full-scale Equipments, Strict QA & QC system;
3. Custom-made Design: We supply our design drawing according to customer practical situation.
4. Technique Support: Walk in cold room: we supply our diagrammatic drawing, feel easier for installation.
Cold storage warehouse: We have nearly 18 professional engineers who can go aboard to supply technology support and direction, until turn key for our customers.
5. International Trade Operation: We have concentrated on international trade of cold storage room line for more than 10 years, accumulated various experience from different customers of different countries. So we can update our operation in time according to our customers and new rules. It is helpful to clear custom and save cost and time for our customers.