Product Description
We manufacture and supply industrial refrigeration units and outdoor refrigeration units for cold room, cold storage and industrial refrigeration systems. This series refrigeration units feature box type structure with semi-hermetic compressor, that is compact and pleasant looking, applicable to cold display cases, cold storage rooms, ice producers etc. The applicable temperature ranges are: -5℃~+5℃ and -25℃~-20℃. They can be used in hotels, restaurants, medicines, agricutureral, chemicals industries all other place where cold storage is needed.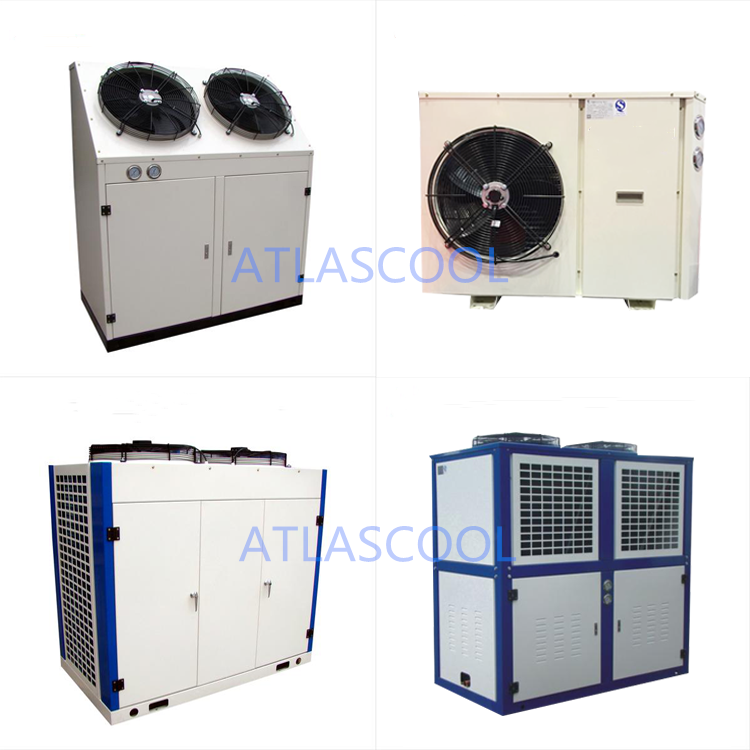 It includes Compressor, oil heater, oil separator,vibration eliminator, filter, solenoid, pressure limitator, oil pressure protector, gas separator, condenser, liquid receiver, sight glasses, pressure switch, H/L pressure gauge.
Refrigeration Units Advantages:
1.Electrical parts are integrated, including main electrical appliance, main control panel, cold room temperature control panelwhich are all optional for customers.
2.With main control panel equipping, compressor isautomatically switched on and off based on system presser;
3.With all above control panels equipping, compressor is automatically regulated and have control function for cold room temperature and defrosting.
4.Multi-protectionfor such situations as phase loss, overcurrent, compressor frequent starting, exhaust temperature, compressor module, oil presser (especially for compressor with oil pump), high or low systems pressure, etc.
5.Fans speeds controllable and the condenser fans speed is adjusted based on condensing temperature change;
6.The control panel shows all the related temperatures, working status and has failure alarm function. It can be installed separately where is easy tooperate and monitor for users.

Our factory advantages:
1, Leading refrigeration technology
Special R&D development and strong ability:
More that 10 technology patents in refrigeration application;
Supply technical consulting service;

2, Professional certified employee
Refrigeration major and operation certificate of machinery.

3, More than 18 years factory experience
Itis the leading factory of refrigeration equipment;

4, professional whole line of production
With advanced equipment and technology, we have complete production management, quality control, and after-sale service system