Product Description
Copeland Air Cooled Refrigeration Condensing Units Features:
Copeland Hermetic scroll compressor; Copper tube-Aluminum Fin air cooled condenser; High quality famous brand refrigeration parts; can be updated to Danfoss brand; Box type design, water-proof, dust-proof, quieter; Built-in electric components are optional
Low temperature condensing unit components:
Compressor; Axial fan; Receiver; EMERSON filter drier; EMERSON sight glass; EMERSON HP/LP pressure controller; pressure guage; oil separator; suction accumulator;Schneider AC contractor
Carlo Phase protector; Schneider overload protector; EMERSON solenoid valve
Medium temperature condensing unit components:
Copeland scroll ZB compressor, heater, condenser with axial fan,liquid receiver,Danfoss fitter drier,Danfoss sight glass,Emerson pressure controller,ALCO solenoid valve,Schneider AC contactor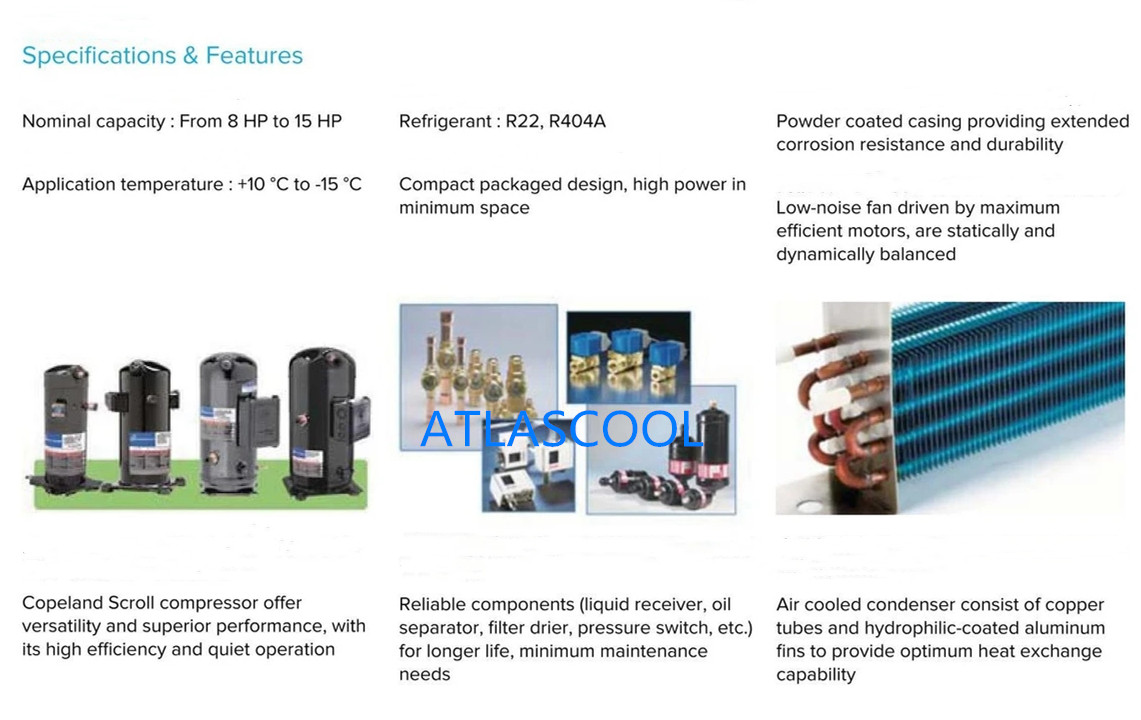 They changes traditional material structure to metal structure, which is light weight and more labor-saving. Connecting tube adopts bell from, which is convenient connection and saves 50% installation time, as simple as air condition installation. And this new type of thin closed design can be installed near to the wall and doesn`t occupy the sepecial installation space. The inlet and outlet pipe interface of unit is provided with stop valve, which is more convenient for installation and maintenance. It is applicable to all kinds of refrigerants of R134A, R404A, R507A, R22.
Our factory advantages:
1, Leading refrigeration technology
Special R&D development and strong ability:
More that 10 technology patents in refrigeration application;
Supply technical consulting service;

2, Professional certified employee
Refrigeration major and operation certificate of machinery.

3, More than 18 years factory experience
Itis the leading factory of refrigeration equipment;

4, professional whole line of production
With advanced equipment and technology, we have complete production management, quality control, and after-sale service system