Product Description
We manufacture and build big cold room, big butchery room and big meat freezer room.
With leading refrigeration technology; Saving more energy and full automatic control, latest refrigeration technology and less power consume refrigeration system can save your more operation costs. We can do customized cold storage room size and dimension according to customers' requirements.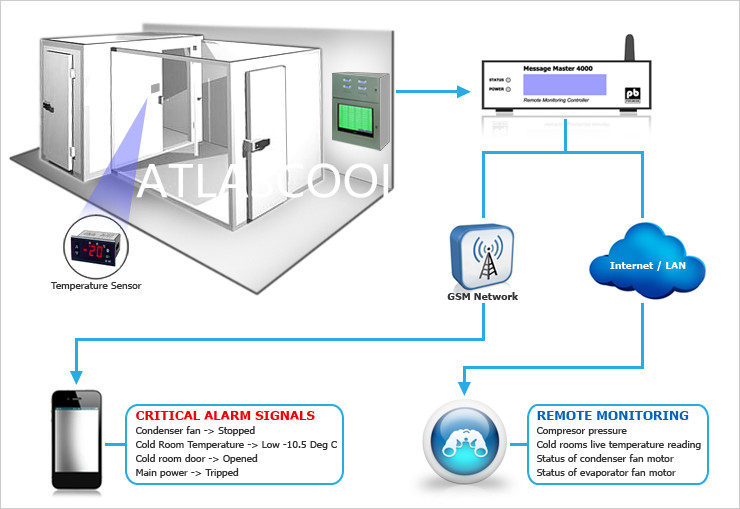 Customized cold room
Dimension
Length (m) *Width (m)*Height (m)
Refrigeration unit
Copeland / Bitzer/Frascold/ Refcom/Hanbell etc
Refrigeration type
air cooled / water cooled / evaporation cooled
Refrigerant
R134,R12,R22, R404A, R407,etc
Defrost Type
Electric/water/hot fluorine defrosting
Voltage
220V/50HZ,60HZ,380V/50HZ,60HZ
Panel
PU panel, 38~40±2Kg/m³, fire retardant:B2
thickness:50mm,75mm,100mm,120mm,150mm,200mm
Choose from according to the type of cold room
Type of door
Semi-buried door,sliding door,electric sliding door,Automatic return door,double swing door etc
Temperature
According to the type of goods
Application
Cold room,frozen room,Medical cold storage,Constant temperature room,etc.
Temperature Specification
| | | | |
| --- | --- | --- | --- |
| Type | Temperature | Storage goods | Panel thickness |
| Cold room | +5~-5℃ | friut,vegetable,flower,wine,chocolate,egg,meat | 100mm |
| frozen room | -10~-18℃ | frozen fish,frozen meat,frozen poultry,etc | 120mm |
| Low temperature room | -20~-35℃ | fresh fish,fresh meat,fresh seafood,Blood | 150mm |
| Extremely frozen room | 0~+-80℃ | electric,laboratory,Chemical industry,biopharmaceutical | 200mm |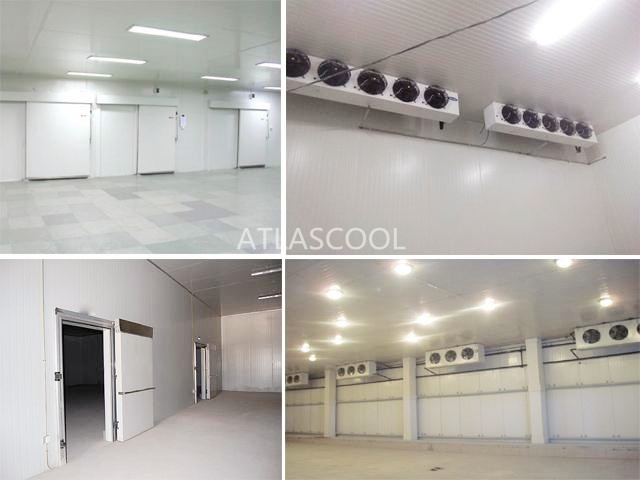 We provide one stop cold room solution including cold room panels, cold room doors, condensing unit, evaporators and condensers, and ice machines.
As the leader in refrigeration technology, we aim to bring you high quality, reliable, long lasting and excellent efficiency products.
More than 18 years refrigeration expreience, your cold room experts, from design to installation and maintenance service, we provide one stop cold room solutions for your fresh life.
We are specialize in making different cold room projects. Such as cold room for milk,cheese , frozen food industrial,fish and meat,ice cream,fruits and vegetables etc.
Big cold room Features:
1, Superior quality; With advanced equipment and innovation technology, we have complete production management, quality control, and after-sale service system.
2, Excellent cooling efficiency; Our many years of cold room refrigeration experience will help us design a economic refrigeration system to your product, no more and no less.
3, Factory price; Our own factory to assure you reasonable price.
4, Perfect details; World famous brand refrigeration accessories, guarantee long use cycle.
Large Insulated Structures Refrigerated Cold Rooms panels
We have pu panels, pur panel, pif panel and puf panels.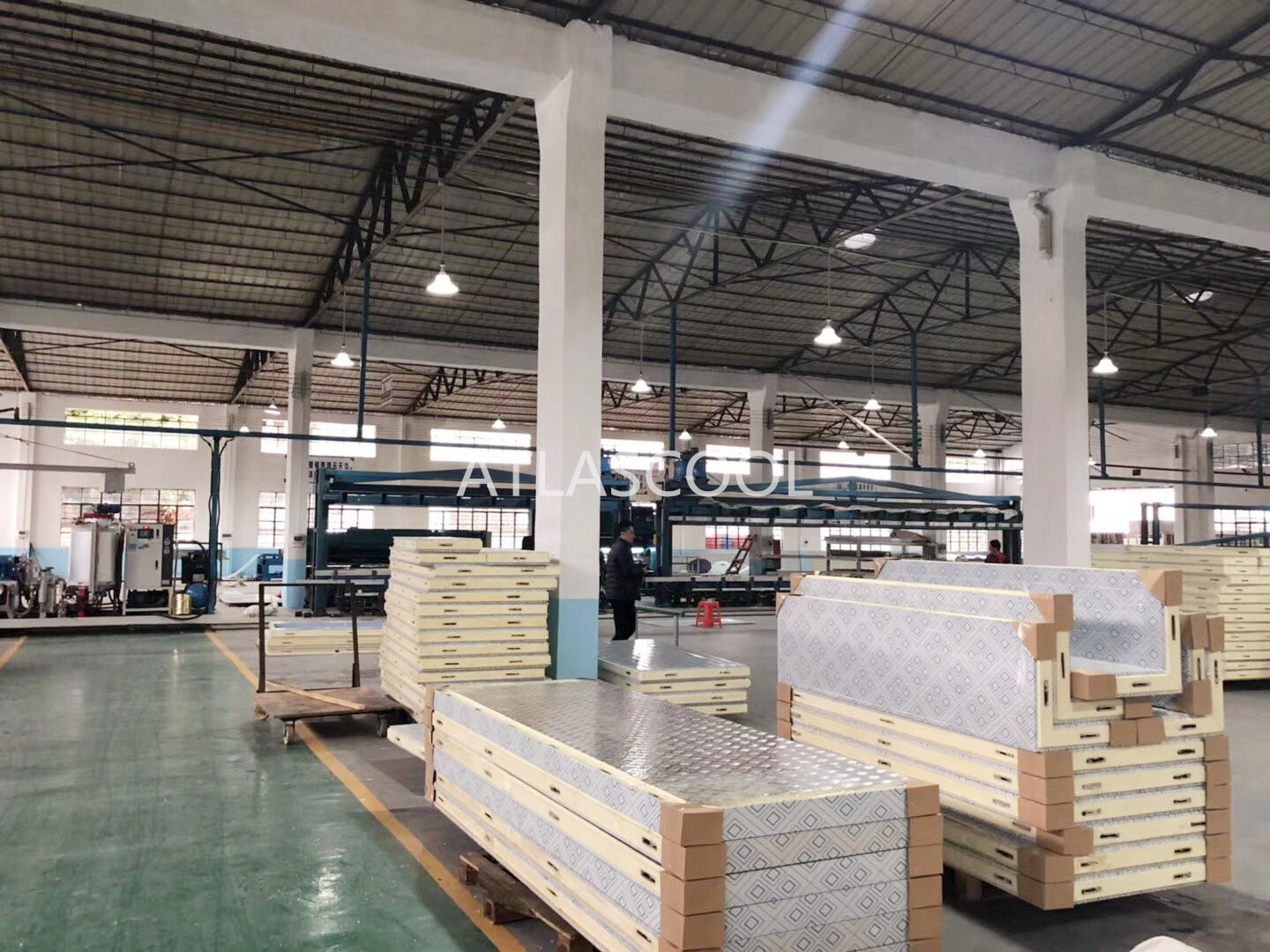 Specifications:
Panel Thickness Available: 50mm, 75mm, 100mm, 120mm, 150mm, 175mm and 200mm
Panel Width Available: 500mm - 1200mm
Panel Length Available: 2000mm-12000mm
Regular Steel Sheet Color Code: RAL 9002(Grey White)
PU Material Origin: Germany, Japan or Korea
PU Density: 40-45 KGS/M3
Heat Transfer Coefficient: =0.022 W/M2*K
Pressure: =0.10Mpa
Cubic Area Change: =1% (-30 C-100 C/96h)
Fire Rating: B1 and B2
Surface of Panels: To be plating 0.4mm, 0.5mm or 0.6mm pre-painted white hot galvanized steel sheets or stainless steel sheets and PVC protected films.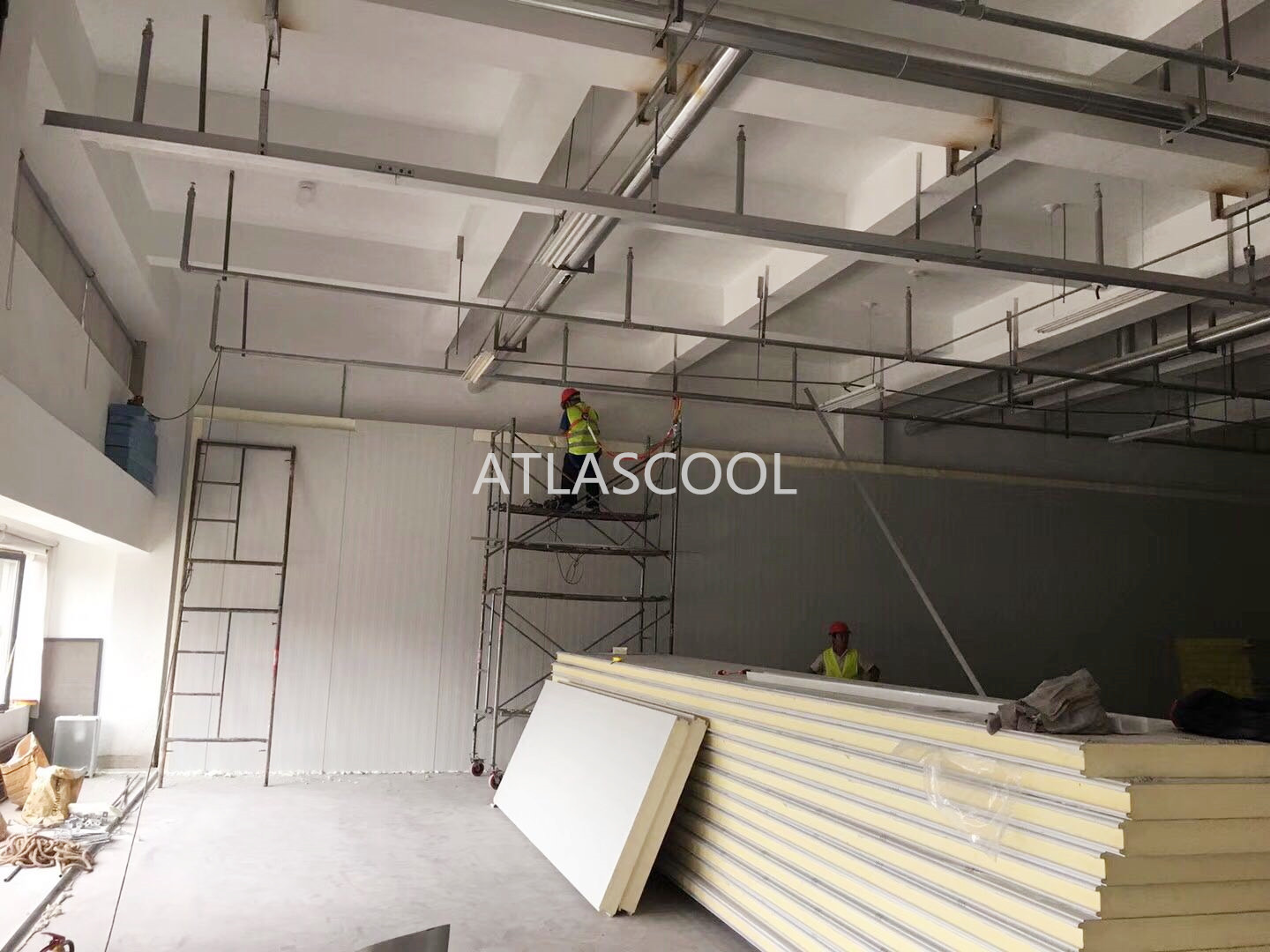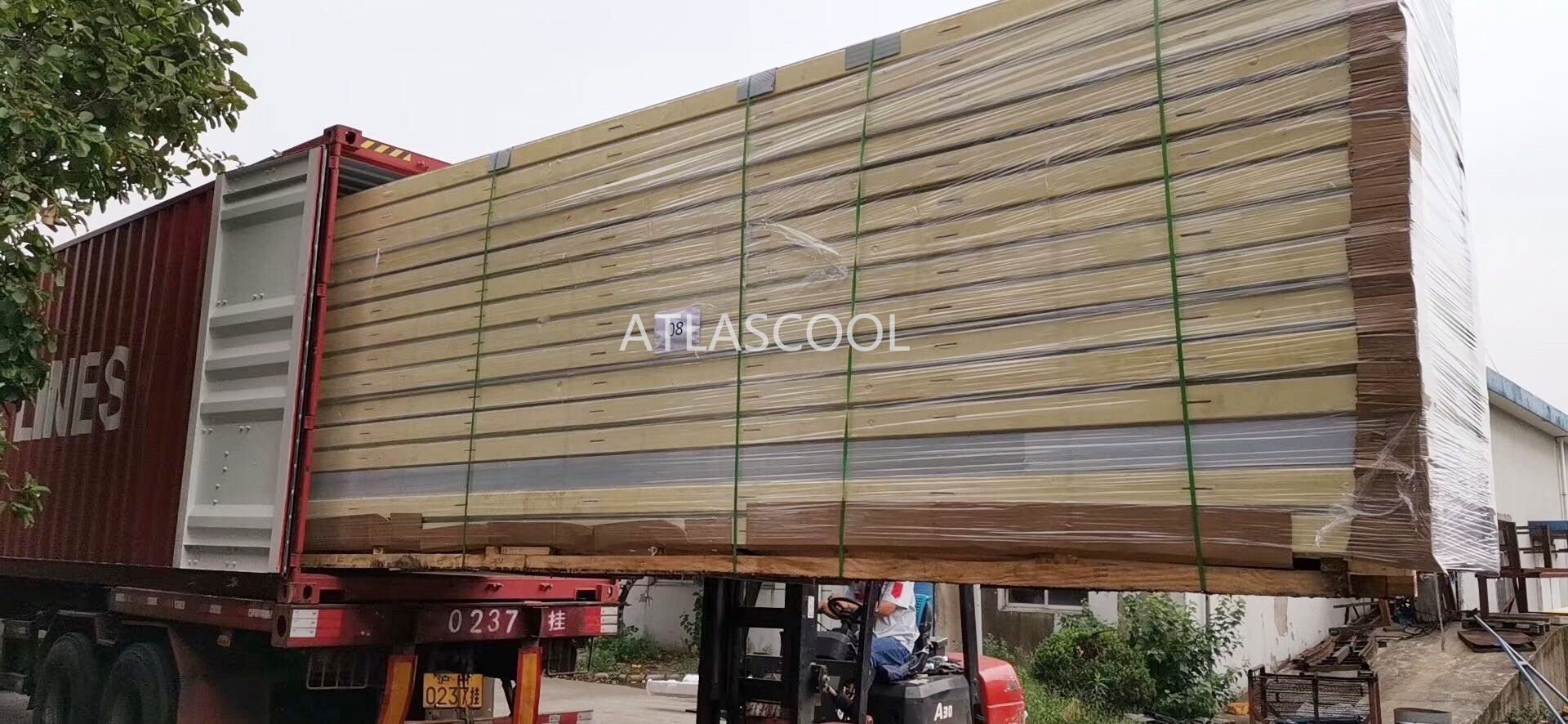 Big Cold Room refrigeration units
Compressor brand Bitzer, Copeland, Frascold etc.
Air Cooled Type Conderser Fan
Water Cooled Type water cooled condenser and cooling tower
Evaporative Cooled Type Evaporative Condenser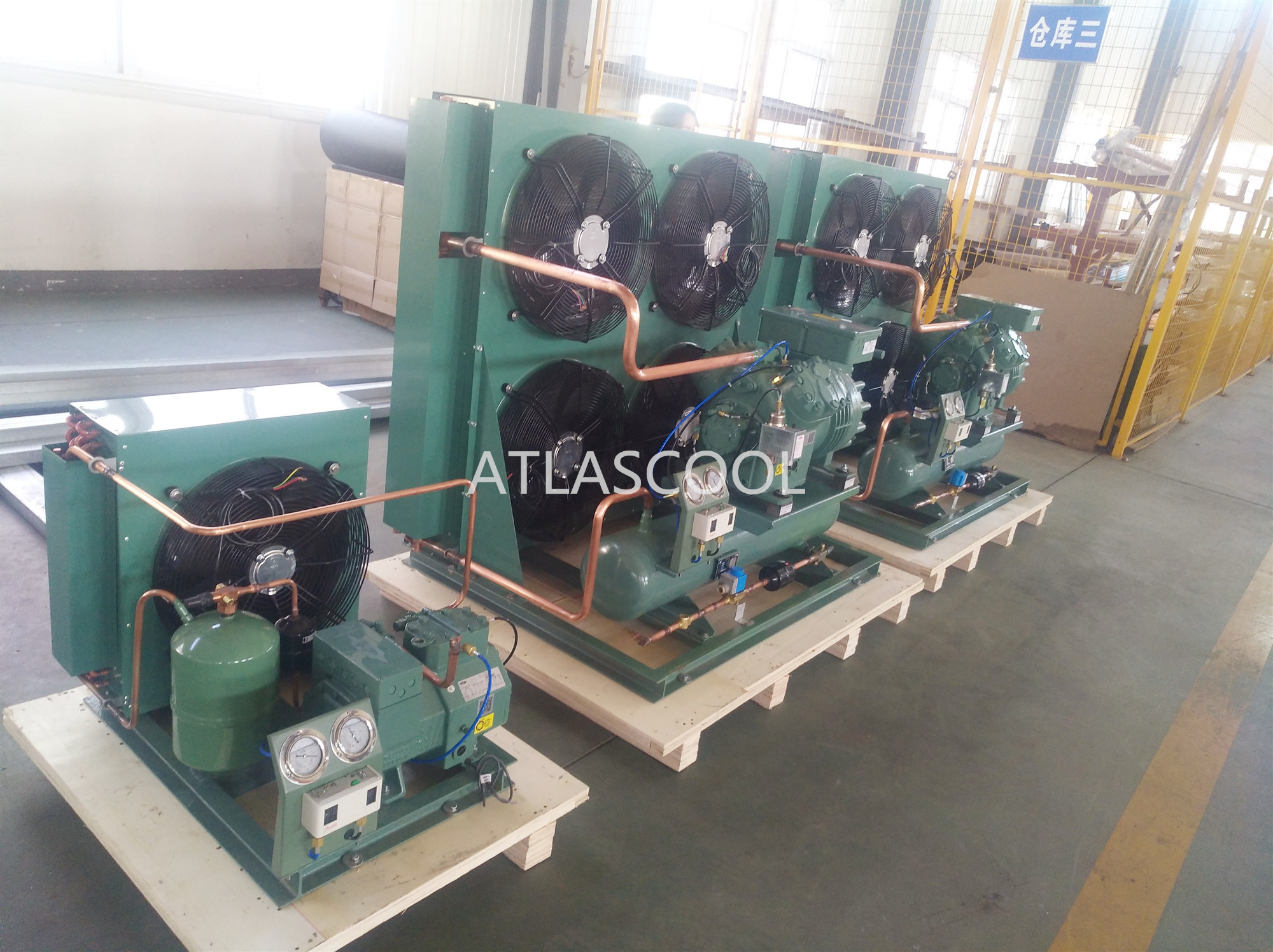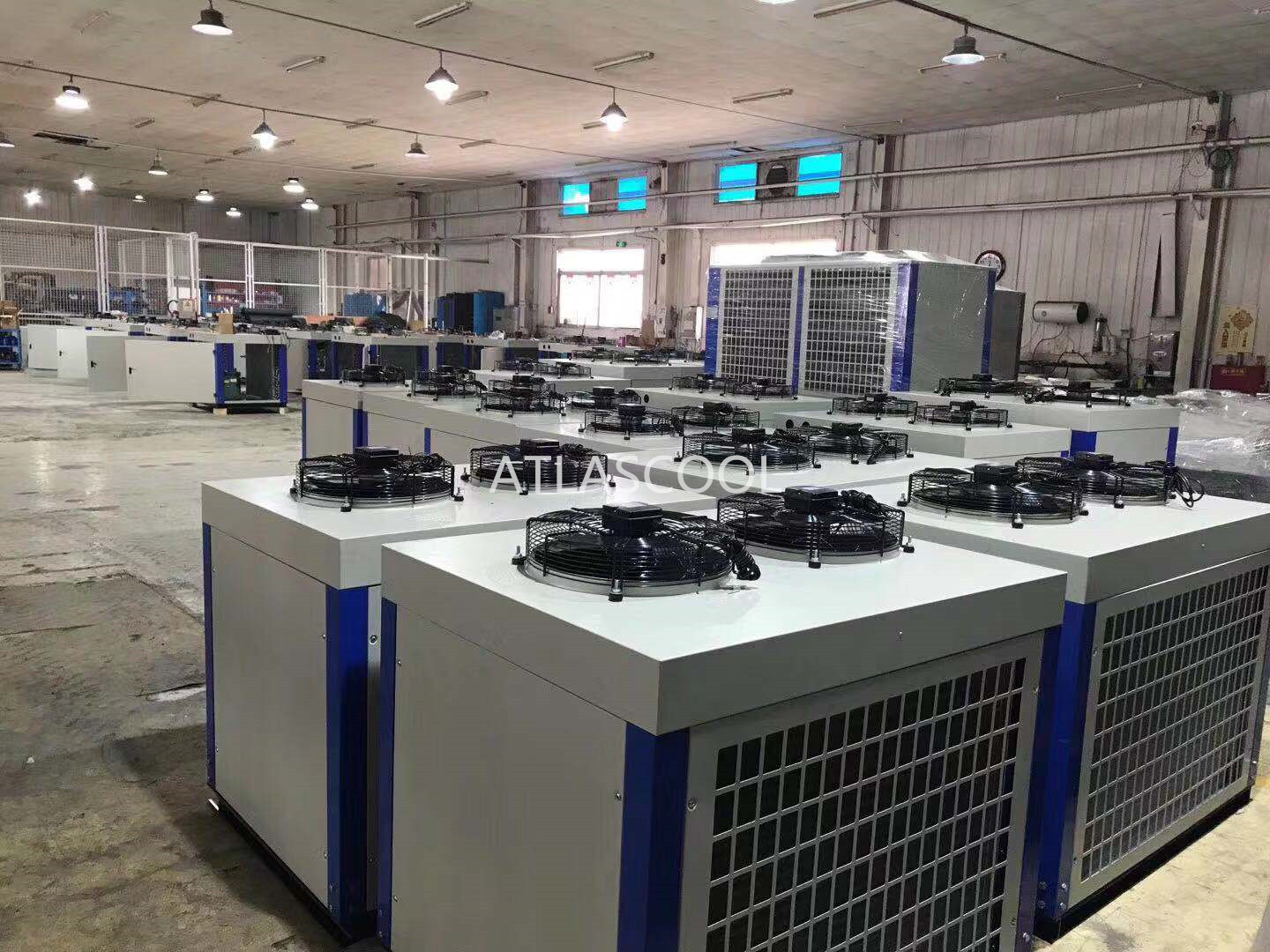 Our factory workshop

As your cold room experts, we provied all cold room solutions. Seafood and meat freezer room, Dairly and ice cream blast freezer, Fruit and vegetables cold room, Pharmaceutical and chemicals cold room, Commercial cold room, Ripening room and flower cold room.